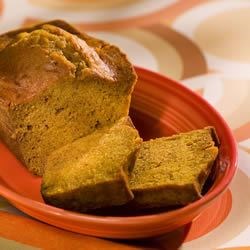 At least that was my attitude last weekend when I decided to make pumpkin bread. To me, nothing says "fall" like a house filled with the smell of cinnamon and cloves. The rain and cold weather will be here soon enough (boo!), so in the meantime we enjoyed an easy fall favorite. I used a recipe I found online and thought it was actually very good. I will probably reduce the amount of sugar next time, but otherwise will keep it as is.
As a firm butter devotee, it was a little strange baking with oil, but I found that it kept the bread incredibly moist so it all worked out in the end. If you don't eat this bread liberally with cream cheese, you'll be doing yourself a disservice. Who cares about heart health? Am I right?
Stephen says
: This is healthy, yes? I mean...pumpkin's a vegetable, isn't it?
Stephen's rating
: 9
Recipe for Downeast Maine Pumpkin Bread
Courtesy Laurie Bennett
(
http://www.allrecipes.com/
)
INGREDIENTS
1 (15 ounce) can pumpkin puree
4 eggs
1 cup vegetable oil
2/3 cup water
3 cups white sugar
3 1/2 cups all-purpose flour
2 teaspoons baking soda
1 1/2 teaspoons salt
1 teaspoon ground cinnamon
1 teaspoon ground nutmeg
1/2 teaspoon ground cloves
1/4 teaspoon ground ginger
DIRECTIONS
Preheat oven to 350 degrees F (175 degrees C). Grease and flour three 7x3 inch loaf pans.
In a large bowl, mix together pumpkin puree, eggs, oil, water and sugar until well blended. In a separate bowl, whisk together the flour, baking soda, salt, cinnamon, nutmeg, cloves and ginger.
Stir the dry ingredients into the pumpkin mixture until just blended. Pour into the prepared pans.
Bake for about 50 minutes in the preheated oven. Loaves are done when toothpick inserted in center comes out clean.